The lack of finalist land is causing a rise in the price. This resulted in a increase in the final costs of housing. In just four years, prices have skyrocketed in Valdebebas and El Cañaveral
The Cañaveral is one of the few areas of Madrid where you can buy housing at affordable prices, but the pressure of the demand in this area it is very strong. In fact, in this area a flat costs 100.000 euros more than in 2015, while in Valdebebas it is necessary to spend around 150.000 more euros.
Study of Forum Consultants
As regards El Cañaveral,Contact Us 13 has analyzed projects in commercialization with 860 units. While there are hardly any 285 units currently on sale. The average price of sale of the square meter round the 2.100 euros. In the following graph you can see the evolution in previous years.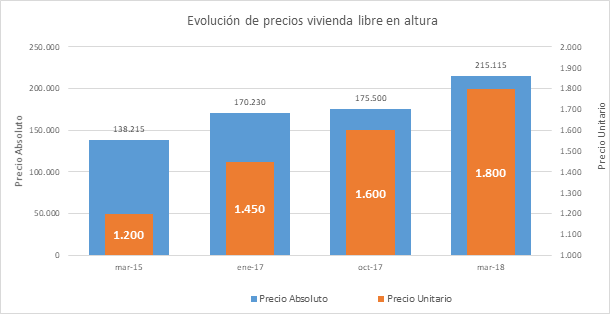 «In January of 2016, the soil the buildable square meter was paid between 400-450 euros. At the beginning of 2017, the figure reached the 600-650 euros, while at present 750 is paid euros metro, and we are already at a turning point«, Recognize from Foro Consultores. In his opinion, «in this zone the final sale prices of a house, momentarily, have reached ceiling in the 2.100 euros per square meter built, not including the annexes -Steads and parking spaces- ». In addition, they add that, to the strong increase of prices, it is necessary to add the costs of work. They have risen around an 20%, disrupting some financial plans.
The pull of Valdebebas
"Unlike El Cañaveral, there is still an upward trend, because there is little land available in the area," according to Foro Consultores. Also, remember how the price of land has evolved in the last three years. "In 2016, the price per square meter of buildable land was around 1.200 euros, while in 2017 it reached 1.500 euros and at present it is in 1.900 euros the buildable square meter".
In Valdebebas, the average price of a home is around the 3.500 euros square meter built (between 3.000-3.947 euros) and the average cost one floor is about 497.700 euros, with an average area of ​​141 square meters
All the information of these areas, you can read it in detail in the report of Elena Sanz in The Confidential
Image. Residential Valdebebas Unique. Promotion that already has a building license.