Real estate balance 2018: investment record
Breal estate in 2018 and perspectives for 2019. The real estate magazine of El Economista has reviewed this sector with several experts. We highlight the analysis of Carlos Smerdou, CEO of Consulting Forum. In his opinion, the year that has ended has been the consolidation in the residential sector by all the players in the market. Prices have followed an upward trend, due to a demand for replacement very interested.
At the same time, it considers that the Revival of the housing market in cities with smaller population like Valladolid, Burgos ... In the last two years, only the big ones like Madrid, Barcelona, ​​Valencia or Malaga pulled the market. Now there are new areas and new housing is being produced again. But not only in provincial capitals. On the coast, especially in the Mediterranean, the supply is increasing, after years in dry dock.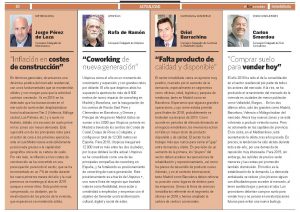 prospects 2019
For 2019, the price increases will be lower and sales by promotion will also decrease. In short, moderate growth. The reason for Smerdou is the stabilization of demand in a healthy market. During 2018 there has been a lot of dammed demand that has come to market. In general, the repository customers. But this group, although it is broad, is obviously reducing. And at the same time, young people still have a hard time accessing the market. Low wages and rising prices, a difficult combination.
Likewise, the CEO of Foro Consultores considers that we have a very important challenge: developers should buy land to sell today, not thinking about future revaluations. That would prevent us from making past mistakes. "Ideally, we should have a smooth market," concludes Smerdou.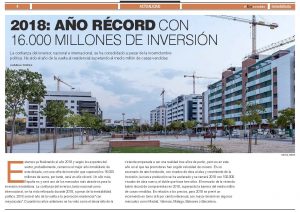 Main Image: Arturo Soria Garden Residential in Madrid
And if you are looking for housing, take a look at our website Foroprovivienda