Is there cheap housing in Madrid? The key, the developments of the southeast
Lto paralysis of urban developments The southeast is causing a problem in Madrid. The cheap housing of new construction is disappearing from the capital. In affordable areas, such as El Cañaveral or Ensanche de Vallecas, prices have skyrocketed. Up to an 25%, according to a study carried out by Contact Us for Compensation Boards of the Southeast Developments.
What is the problem? That the stock is running out in these areas and the delay of new developments in the southeast, where there is a large stock of cheap housing, means an increase in the price. In fact, the price of housing in the southeast of the capital has grown an 25% and the current stock would be exhausted in six years, if more promotions did not come to market.
Pablo Presa, director of Research and Evaluations of Foro Consultores, points out that in El Cañaveral the price per square meter has gone from 1.200 euros per square meter to 1.800 euros. This means that, at present, with a final price of the home exceeds the 200.000 euros. "This makes the residential offer stop being cheap and does not reach the young plaintiffs," he says.
In addition, El Cañaveral presents production rates estimated in 2.000 homes. The Ensanche has a minimum housing production. Consequently, if land is not released to increase supply, it will "strangle" the demand and the price increase will continue to be bullish.
For its part, Mauricio Fernández, Manager of the Valdecarros Compensation Board, considers that the Madrid City Council seems to be ignoring public opinion and its needs regarding housing.
The southeast is one of the areas with the most demand for the purchase of housing in Madrid
Cheap housing in the developments of the southeast
These areas that include El Cañaveral, Los Cerros, Los Ahijones, Los Berrocales, Ensanche de Vallecas and Valdecarros represent more than 145.000 homes on the market, 50% of them protected. Data of the Madrid City Council.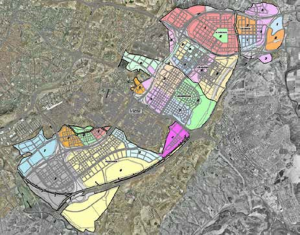 But at present, there are only two areas in development. curiously the southeast is one of the areas with the most demand for the purchase of housing in Madrid.
Ensanche de Vallecas: Almost the 90% developed
The Cañaveral: More than the 30% developed.

And how has it affected the prices? In the following link You can see the evolution in the developments that are underway.
Main Image: @crdeprada