Every crisis is affected in the market, and the real estate sector has been the most Great urban madness Untied in the 2000-2007 period. Everything was sold, based on speculative consumption and financed with high leverage.
One of the consequences of this boom and subsequent crisis have been the Major real estate developments Which had high sales expectations but did not become, and we can ask ourselves What will happen to them now? Because the answer is always, depends...
Depends from his location And all that this entails: Distance to the urban nucleus Most important, of Socio-economic factors The municipality, the accesses already built, the reason for acquisition of potential buyers ... and depends on another great factor: Their degree of consolidation. That is, the percentage of iNfraestructuras already available and the population that already resides in the development. Depending on this we can typify the urban and Predict their future Logical and coherent.
Some examples.-The development of Marina D'or, Powered by Grupo Marina D'or, had planned 35.000 housing when it began in the year 2000. Its location in Oropesa (Castellón) is clearly aimed at Second residence So it is not close to an important population nucleus, but also has no good access. The degree of consolidation and construction is high in some areas but scarce in others surrounded by open fields.
It is estimated that some 15.000 units will be completed, in the hands of Sareb and financial entities, and the rest will not be built due to lack of demand. The prices in the boom era were more than 200.000 € for small apartments and now they are trying to sell below 60.000 €. The solution to all this stock is to sell with high losses what is already built and paralyze what is half built, because it does not compensate the sale price with the cost of finishing it and the floors that are not built, right now, have a negative value.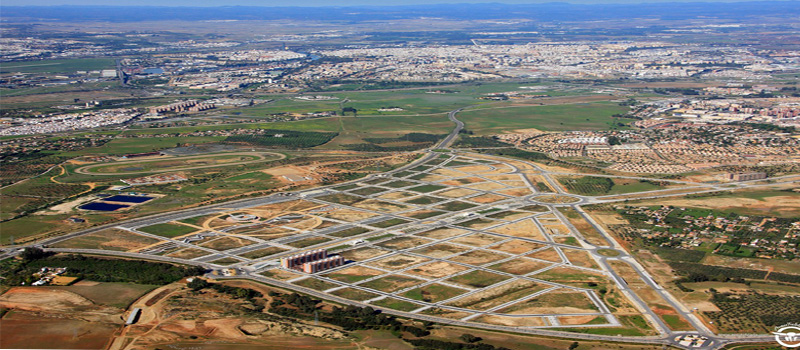 Seville.- Another development affected by the crisis and very different from the previous one is The area of ​​Entrenúcleos in Seville, In the municipality of Dos Hermanas. Also in year 2000 the town hall urbanized this great sector offering to the market finalist ground for 13.500 residences of first residence of which 6.000 were protected. The person in charge of all this was Inmobiliaria Colonial. In 2009-2010, and despite having sales, the lack of liquidity in financial institutions prevented the construction. It is a development with zero degree of consolidation, there are only bags of soil without buildings and without endowments. However, the Good access Of those that it has and the proximity to the capital of Seville There is a future close to this macro-project. The ground is in the hands of financial institutions eager to pull forward. Of course, the prices that were handled before when the future was sold as if it were present is totally improbable, the houses that previously could be near the 230.000 € will not be able to raise of the 150.000 € but it is Clearly an area with demand that is going to be driven in this 2015.
Valdeluz.-A third example of development that did not meet your expectations. He was born in 2003 with the idea that the resident population outside of 30.000 inhabitants in more than 10.000 homes. The project included a wide range of tertiary services - commercial, industrial and hotel - through all kinds of socio-cultural equipment, leisure (theme park), sports (bike path, golf course and sports area), commercial (66.560 m2 surface area sales), business and business (one business park and two hotels), health and welfare (two health centers and two geriatric centers), education (9 schools) and, in general, quality of life, when trying to have ample green areas and extensive public parks. The impeller was Reyal-Urbis.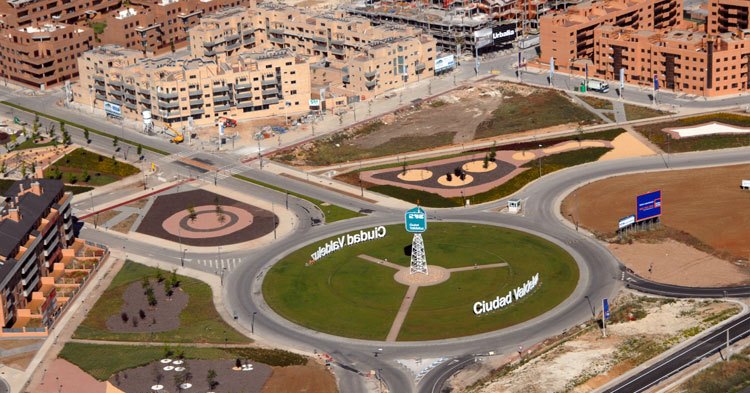 Photo: web ciudadvaldeluz.com
La Reality in 2015 it is very different, the location is not close to an important municipality, it is more than 60 km from Madrid and 11 kilometers from Yebes, a village of 300 inhabitants. Valdeluz has registered people near 2.500 so we can imagine the amount of stock on sale that he has. Nor is its degree of consolidation high, does not have the necessary endowments, does not have schools, medical services are scarce, although the University Hospital of Guadalajara is located at 7 km, transportation is also very limited, both the AVE and the buses so it is imperative to use a car or two. The prices that were previously in the 250.000 € are now between the 120.000 and the 130.000 € and even then it is difficult to place them in the market because it is not really an area with high demand, very far from Madrid and without a degree of consolidation.
What do we do with this stock that nobody wants? The answer is the owners of the same, the financial institutions and Sareb. Some ask to convert it into social housing. To this end, municipalities should expropriate and pay owners a fair price and do not have this liquidity. We speak of many millions of euros, even if it is only cost price.
Knock them down? I can not imagine any individual or entity destroying their assets, when in addition, even the demolition is another cost. Another issue is those buildings that have not even reached the 20% structure, the owner can compensate more to throw it than to maintain it, but those that are finished only go through a slow absorption of the market and assuming the losses they have supposed. They will not have 2007-2008 prices but will be sold.
Planning.- The good accesses and the short distance of a great development to an important municipality of more than 500.000 inhabitants are two variables that must exist prior to the beginning of the programming, if this had been given, the crisis would not have affected it as much. The degree of consolidation comes later.
We have reviewed some of the projects affected by the bursting of the bubble, but there are more like Quer (Toledo), Yuncos (Toledo), La Muela (Zaragoza), El Toyo (Almería) ... We will all study them independently to see what Future have short and long term, as it will depend on several factors as we have seen.
[twitter_follow username = »@ foroprovivienda» language = »en»]
[twitter_follow username = »@ foroconsultores» language = »en»]